This year  we participated again in the hunting workshops  in Kosów. This time we had  two Barbets with us. The course was conducted by Mr. Zbigniew Didoch – international judge of working trails and Mr. Konrad Makos, judge of working trails . In addition to theory course, workshops program included a practical basis and methods of dog training and testing of dogs. On the second day of the workshop we had a visit of representatives of the Kennel Club in Radom. The dogs were tested in retreiving of a game (dead and alive) from land and water, working with the upper wind, bloodtracking, field search,  reaction to the different kinds of game and reaction to the gunshot.
Our Barbets did quite good work, although to confirm that the  individual characteristics are much more important than race characteristics, both our dogs excelled in completely different fields. Argo has been very good at working with the upper wind (he was the first to track a quail from a quite long range in th turning and weak wind), as well as working for the yarn (he went twice like there was a line drawn on the land), he  retreived well from the water and a little less good from land, with rabbit better, with pheasant worse. Georgia got a better overall assessment and showed her spirit of  almost tireless retriever. I do not know how many times she has to retrieve, to finally get tired. She also manifested a great passion to work in the water, she never returned without a game,  no matter how we tried to complicate it for her. Since this was her first workshop, many smells and some situations were completely new to her (pheasant, rabbit, quail, etc.). At the end of the workshop, after three days when most of the dogs were already tired and pinned down in the grass, our indefatigable Georgia was still working on "top gear" that she got a new nickname – "Duracell". It is worth noticing that while the workshop itself is geared to help the owners of dogs in training, whereas the  tests checked the dog's first reaction in an certain activity (we create certain conditions and see what the dog will do ). Subsequent guidance from the judges could, in some cases, even do wonders.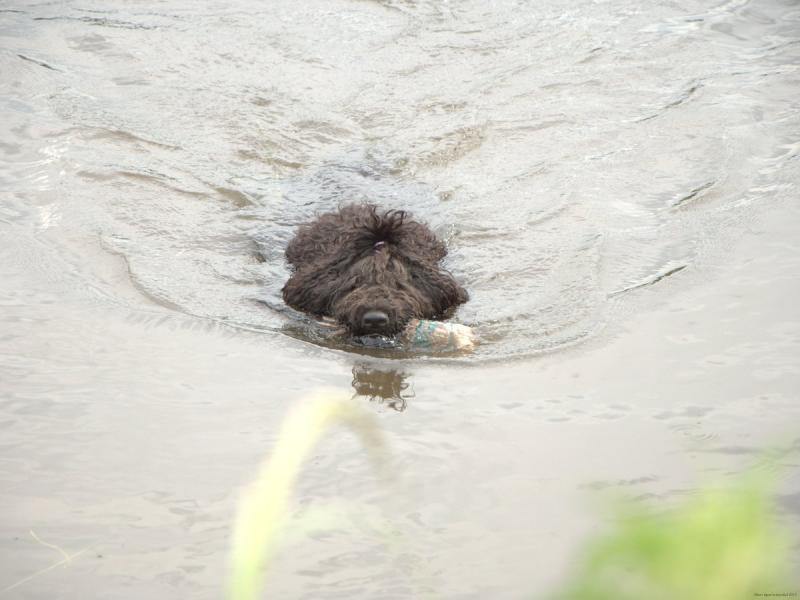 The atmosphere at the workshops, the attitude of owners, judges and…dogs were amazing. The dogs were happy though tired (I'm writing this post 24 hours after we came back, and our Duracell still sleeps like a baby). This kind of activity can give the owners  enormous amounts of satisfaction. And when You see that Your Barbet is doing what he is meant to do with such great joy and passion, when he or she is almost going crazy, because of a game thrown in the water… there is nothing best, believe me.
And with every day evening conversation, even EURO 2012 descended into the background.
Photos from the workshops are – here, try to identify all the breeds
Thanks for the great time, especially to the judges from who We could learn so much.